Exciting events at Belgium Paneco Partner – JET Logistics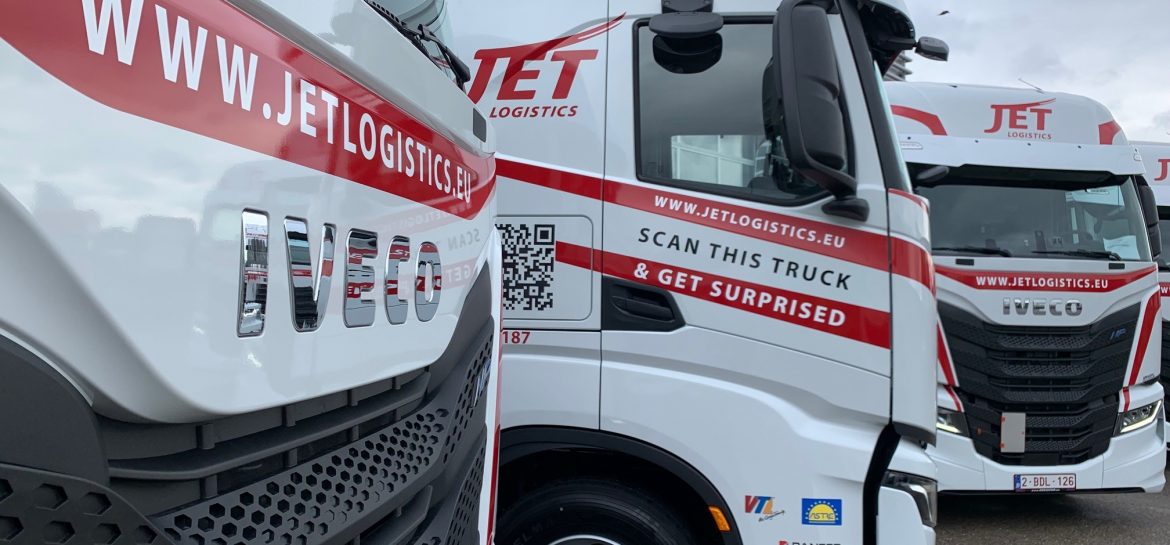 International logistics network partner Paneco- the company JET Logistics from Belgium celebrated the Truck Driver Day ("dag van de vrachtwagenchauffeurs") on 09 December. This is a very pleasant and successful initiative by the Royal Federation of Belgian Transport and Logistics Service Providers (FEBETRA).
Above all, it is a very exciting day, especially for the drivers who, as we have written many times before, are an important pillar for the transport industry and whose shortage is felt throughout Europe.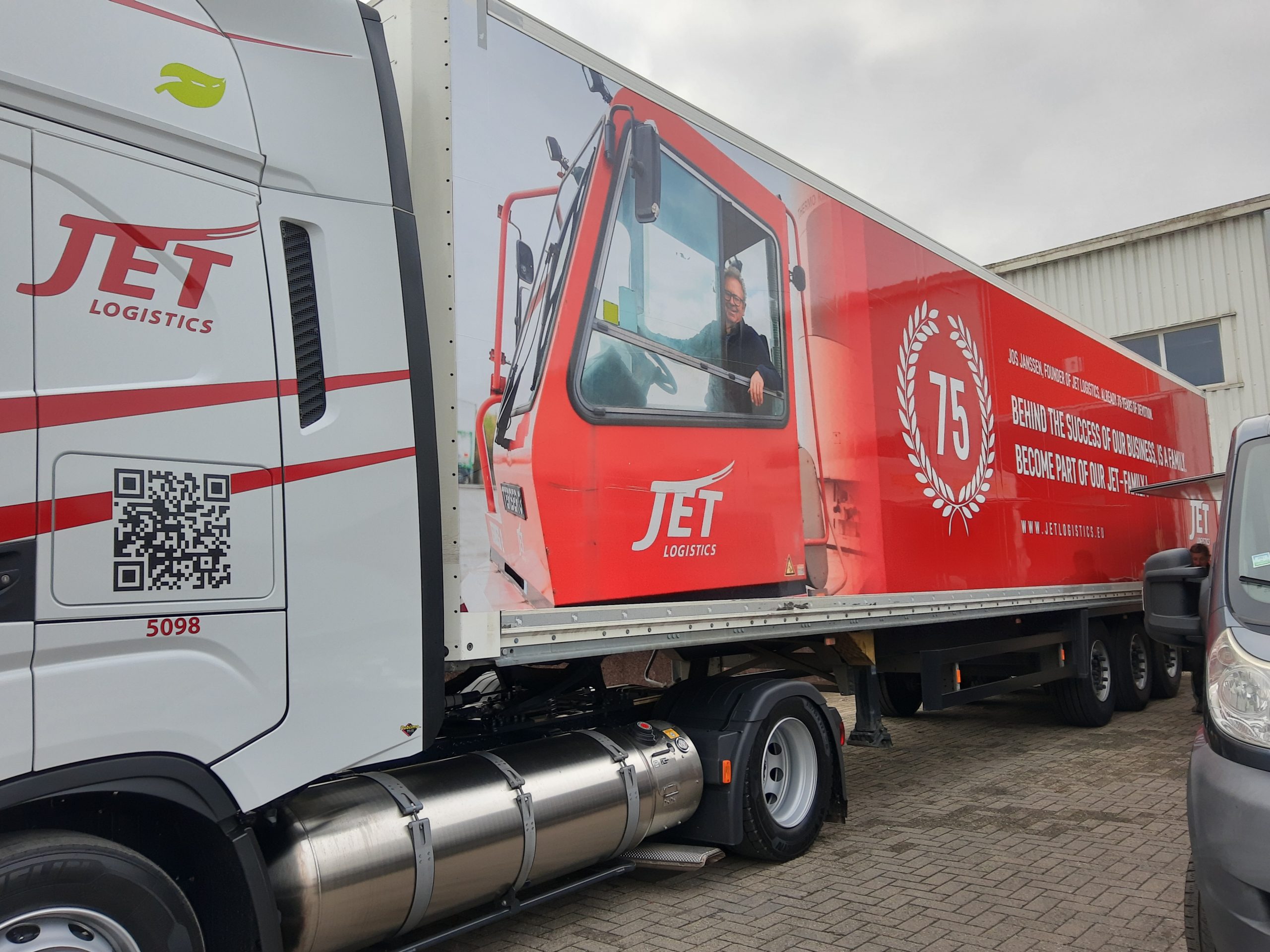 The company JET from Belgium gave all its drivers a present (see attachment). Tasty rolls were also ordered as a morning snack for all drivers to take with them on the road. They also received a tasty treat at midday. The drivers accept this gesture and their holiday with great joy and pride, and the positive mood can be seen and felt throughout the company.
For the Belgian partner of the Paneco international network, JET Logistics, this year's November was a very interesting and eventful month.
The founder of the company Mr. Jos Janssen (father of Mr. Stefan Janssen, CEO) celebrated his 75th birthday on 24 November.
Mr. Jos Janssen continues to work for JET and still devotes a lot of time to the company he created, helping it to constantly grow, change and innovate.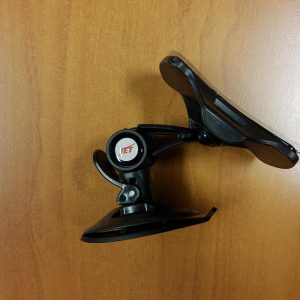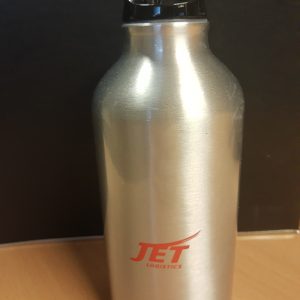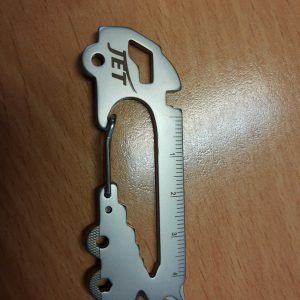 To thank the company's founder and honour all his contributions, one company trailer was all wrapped up especially for him on this occasion. (Below two photos) He was incredibly touched, as everything was done in great secrecy and the surprise made a huge impression on him.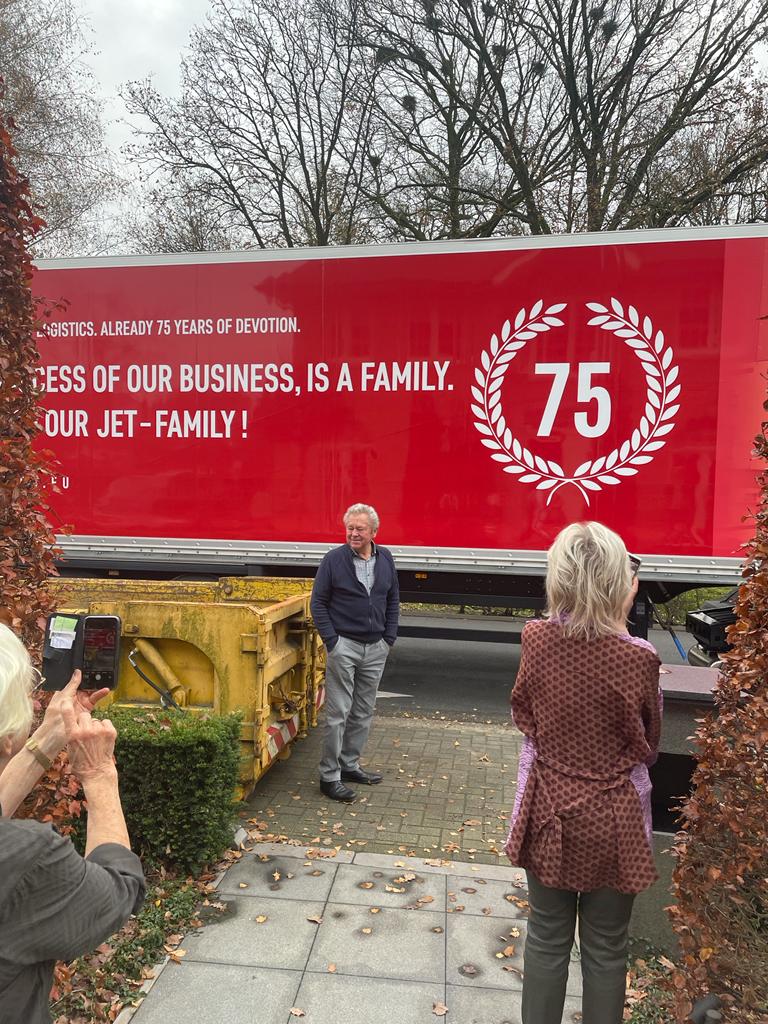 JET Logistics is developing more and more dynamically. Last year the company invested in new tractors and bought more than twenty of them. What is important here is that, supporting the global ecological trend, JET is acquiring tractors fuelled by LNG. We also attach photos of the JET Logistics fleet to this information.
Next month JET Logistics invites all the clients, partners, cooperating companies to get acquainted with the new website.
On this website you will find a lot of interesting information about the company's activities, e.g. high-security transport for DELL company for high-quality goods. Trailers designed for such transport give, for example, an alarm signal when the door is opened.
You will be able to read about these and other news at www.jetlogistics.eu.
JET Logistics is an active partner on the logistics market in its own country as well as in the international Paneco network.