Strong Together
Paneco - Pan-European Transport Network
Your logistics in good hands
A network of European freight forwarders delivers everything at the right time and in the right place
Pan-European transport network
Paneco is the first company to unite freight forwarders from almost all European countries to such an extent in order to create an efficient transport and forwarding network for its customers.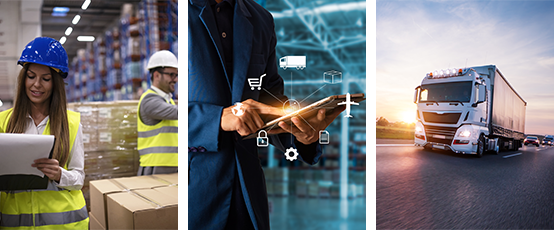 Partnership…
… which pays off for everyone. With us you can achieve more – both as a professional in our industry (Transport Forwarding Logistics) and as a customer looking for logistics solutions in Europe.

Quality
The cooperation within the network is a guarantee for uniform and high professional standards for the benefit of all. We are close to our customers and experts in our industry.

Competitiveness
Smaller companies can do more as a team. Paneco is expanding its reach and creating a competitive offer for the benefit of all interest groups.
Many advantages of a partnership
Cooperation that pays off. A new quality on the European Transport Forwarding and Logistics market.
Paneco operates across Europe, regardless of geographical, cultural or linguistic boundaries. We bring together experts from all over the European Union and from most of the non-EU countries. Thanks to our platform, our customers' shipments go directly from door-to-door.
A contact with a company opens the door to all of Europe for you. Paneco offers comprehensive logistics services across borders through its partners. Our partners deal with the transport of general cargo shipments – groupage, part and full loads.
All our partners, i.e. Paneco members, and their customers benefit from this partnership. It's a collaboration that pays off for all parties. We create an offer that is competitive with global transport companies. We act according to best practices and apply optimal solutions in terms of processes and costs.
Belonging to a common system guarantees uniform rules. This in turn influences the prices of mutual billing, the quality of the services provided and their scope. A common platform for ordering and tracking shipments is the icing on the cake of our network. We see Europe as a coherent market. For us it makes no difference in which country the transport begins and in which part of Europe it ends.
Convince yourself that it is worth being or working with us!
Join us as a transport company or find a suitable partner with us!
If you run a company in the TSL industry (Transport-Spedition-Logistik)
Join the Paneco network and develop your company and business together with us. Broaden your horizons and your options. Your customers will surely appreciate it!
Try it!
If you are looking for a transport partner
We connect shipping companies from all over Europe for the efficient distribution of your goods.
Try it!
Your European forwarding company in good hands
Paneco – reliability and security
Our partners – member companies
Paneco is a new organization in the European market and we are getting stronger.