European Business Masters 2023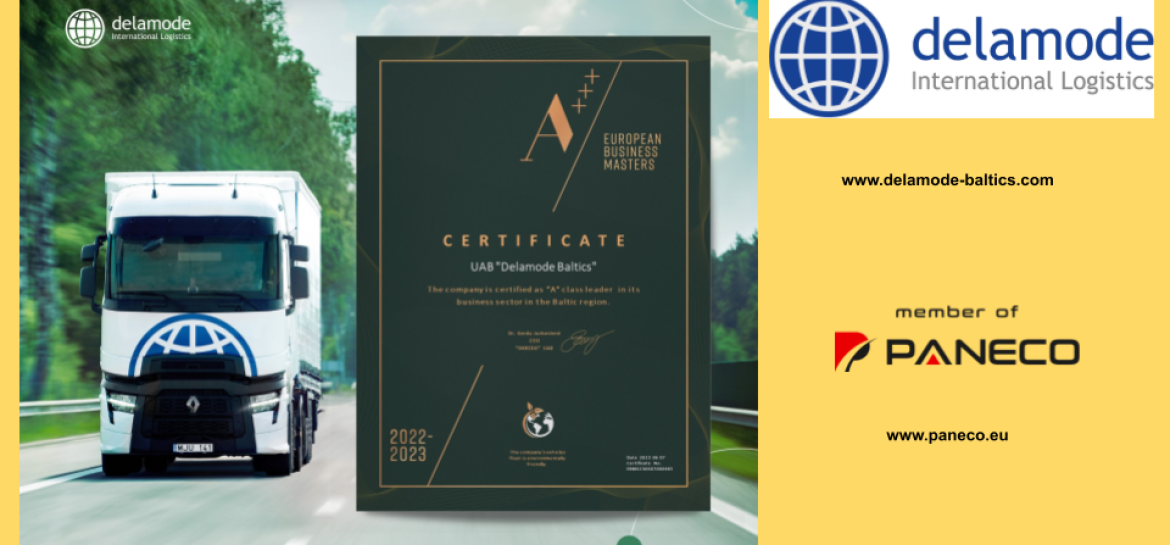 Paneco Partner for Baltics countries – Delamode Baltics- is one of the TOP-100 largest Lithuanian transport and logistics companies with more than 480 employees. The company manages a fleet of 300 trucks that serve different European countries on the routes established by the company. The professional team of Delamode Baltics takes care of thousands of customers around the world and ensures the smooth operation of their supply chain.
Delamode Baltics proudly achieved the prestigious A+ "European Business Masters 2023" certification. This recognition not only highlights commitment to excellence but also establishes Delamode as a trusted leader in the European and world markets.
When it comes to logistics, trust is crucial. Delamode Baltics has a proven track record of delivering reliable and efficient services, earning the trust of numerous clients. With extensive industry knowledge and a team of experts, Delamode Baltics brings unmatched expertise to the table.
As a certified "A+" company, Delamode Baltics is well-positioned for growth and forging new partnerships. This certification instills confidence in potential clients and stakeholders, showcasing the company's capabilities and dedication to excellence.
"A+" certification is a testament to Delamode Baltics' dedication to continuous improvement and adherence to the highest industry standards.
In addition, the A+ "European Business Masters 2023" certification reflects a commitment to sustainability and environmental responsibility. Delamode actively minimizes the carbon footprint through efficient resource management and eco-friendly transportation solutions.
Source: Delamode Baltics